The Creed III star allegedly attacked an acquaintance after she tried to peek at his cellphone, according to reports. His rep says it's all a lie.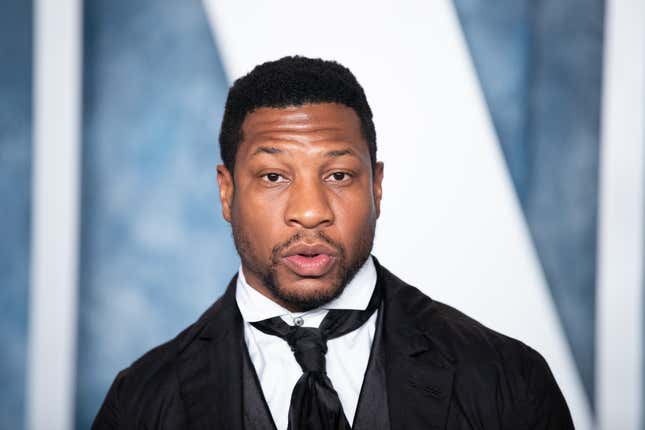 Updated March 26, 2023
One day after Jonathan Majors was arrested on assault charges, his attorney Priya Chaudhry told Deadline the actor is innocent.
"Jonathan Majors is completely innocent and is probably the victim of an altercation with a woman he knows," Chaudhry said in a statement. "We are quickly gathering and presenting evidence to the District Attorney with the expectation that all charges will be dropped imminently."
Police responded to an emergency phone call at 11 a.m inside a downtown Manhattan apartment, according to reports. The "domestic dispute," case involved a 30-year-old woman.
"The victim informed police she was assaulted," a spokesperson for the NYPD said in a statement. "Officers placed the 33-year-old male into custody without incident. The victim sustained minor injuries to her head and neck and was removed to an area hospital in stable condition."
Majors was no longer in custody as of Saturday evening, according to The Associated Press. The News organization also said a representative for Majors denied the actor did anything wrong..
Here's more from TMZ
4:44 PM PT — Here's what allegedly happened in the lead-up to this. Per our law enforcement sources, police were told that the alleged victim is Majors' girlfriend — and, according to her, they got into an argument while in a taxi returning home from a bar in Brooklyn.
Our sources say police were told the girlfriend saw another woman texting Majors, and she confronted him — trying to sneak a peek at his phone. We're told the alleged victim/GF claims this got Majors mad, and that he allegedly grabbed her hand and allegedly slapped her.
We're also told the alleged victim claims he put his hands around her neck during this. Our sources say the woman was dropped off somewhere and that JM spent the night elsewhere. It appears the girlfriend went to police the following morning (Sat.) and reported a crime…..

Our sources tell us the alleged victim had visible injuries — including a laceration behind her ear, redness and marks to her face. She was taken to an area hospital and is in stable condition. As for Majors … he was cuffed and taken to jail on the spot, as police felt there was enough evidence for probable cause. We're hearing he is currently out of custody.