he lawsuit claims that the Federal Bureau of Prison leaked the singer's prison records to Tasha K, who then shared them with her followers on YouTube.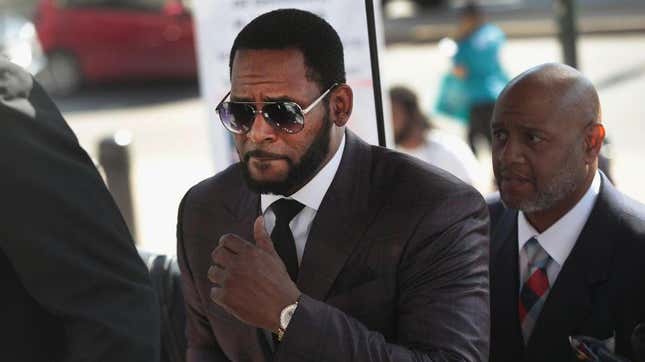 Tasha K just goes from one legal battle to another. After a longstanding feud with Cardi B, the popular YouTuber is now being sued by R. Kelly.
On Monday, the disgraced R&B singer filed a lawsuit against the Federal Bureau of Prisons (BOP), claiming that an agent illegally sold private prison records with the gossip blogger, including phone call recordings with his legal team and girlfriend, according to Billboard.
Jennifer Bonjean, Kelly's attorney, wrote in the lawsuit, "The defendant United States of America breached its duty of care to the plaintiff when it allowed countless BOP officers to access the plaintiff's confidential information without any legal basis to do so."
More from Billboard:
The lawsuit, which also names Tasha K (Latasha Kebe) as a defendant, claims that the influencer then "rallied her massive following to harass the plaintiff with the use of the stolen information and created chaos in plaintiff's personal life."

The leaks left Kelly "isolated and fearful to communicate with his attorneys or other third parties," the lawsuit claims, because he knew it could be "released to the general public for mass exploitation."
If these allegations are found true, was it worth the trouble for Tasha K?
In January 2022, she was ordered to pay the "Bodak Yellow" star $4.25 million after she lost the defamation judgment against Cardi. Unable to pay that amount, the YouTuber had to file for bankruptcy less than four months after the trial ended.
According to Billboard, Kelly's attorneys are claiming that Tasha K first shared the leaked information in November 2019, in a video titled, "R. Kelly Can't Control his Girlfriends while Behind Bars."
In the 39-minute video, Tasha says the information came from a "phone tap somewhere." Kelly's attorneys are also claiming that the BOP did not do anything to punish the officer who allegedly leaked the information to Tasha K, despite the bureau doing an internal probe.
Although they claim to know that a probe occurred, the bureau has been unwilling to reveal any details about their probe, including the identity of the officer in question, according to Billboard.