Abrams believes if Harris was a white male, the attacks the politician faces simply wouldn't happen.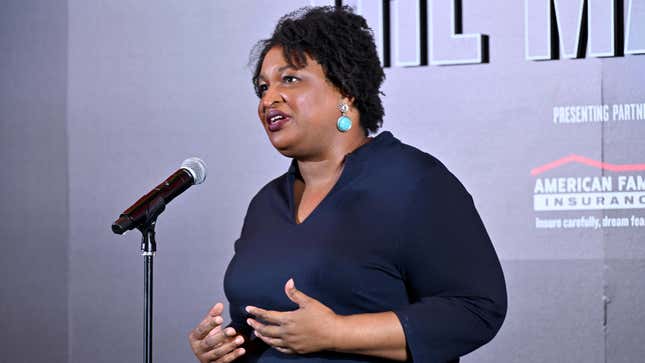 Democratic candidate Stacey Abrams has spoken on the real reason Kamala Harris has had so many critics throughout her tenure as vice president: hatred of Black women.
On Sunday, the Georgia gubernatorial candidate stated during an interview on MSNBC's Inside with Jen Psaki that if Harris was a white man, things would be way different.
"We will always question the person behind the person, but we cannot ignore the misogyny and racism remain very prevalent in our politics," Abrams said. She continued:
"For those behaviors that don't rise to either misogyny or racism, there's also just a difference. Our expectations are set for the traditional white male vice president. It's what it's always been. We are not always great with new. But more importantly, I know if you filter through the critiques, if you think about how she is castigated, it is inextricably linked to race and gender. I applaud the poise with which she has responded."
The criticism since Harris took office has been absolutely unwarranted and completely abhorrent. Folks have dismissed her accomplishments, attacked her demeanor and made her the target of online vitriol.
At the moment, FiveThirtyEight currently has the Vice President's approval at a mere 37 percent. However, Harris has worked diligently to protect abortion access as well as voting rights.
In addition, she has also fought for gun control, given significant funding and resources to Black businesses, supported HBCUs and served as an ally to immigrants who are constantly under racist and xenophobic attacks.